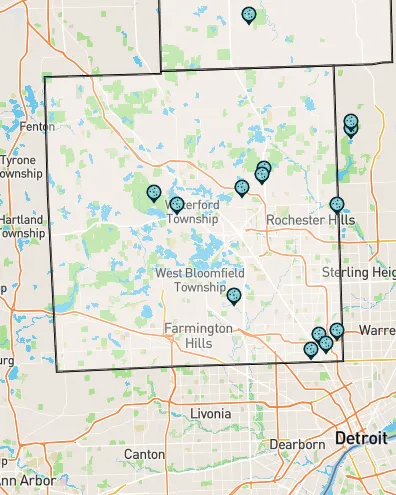 PFAS + Oakland County
PFAS + Oakland County
As an Oakland County resident, you and the 1,255,340 people living in your community need to stay informed about the threat posed by toxic PFAS contamination.
A quick look at the numbers in Oakland County:
There are 19 sites contaminated with toxic PFAS.
15% of residents are over the age of 65, and their health can be aggravated by PFAS contamination.
5.2% are children, who are especially vulnerable to PFAS.
To combat the harmful effects of PFAS, we must:
Raise funds to clean up the Oakland County International Airport, Michigan Seamless Tube, and Electro-Plating Services.
Raise awareness of PFAS contamination in Oakland County waterways, and conduct local events to educate boaters and swimmers of the risks associated with PFAS.
Recruit volunteers in key communities such as Ferndale and South Lyon to get the word out about this risk to our community.
Raise funds to continue testing important water sources like Bald Eagle Lake.
Raise awareness of potential PFAS contamination in Oakland County waterways.
Join the Great Lakes PFAS Action Network and share your story.
Connect with Impacted Communities in Oakland County
Get Involved Today
We need you in this fight. Join the movement addressing PFAS contamination today.
Apply Now
GLPAN's Community Action Mini-Grants Program
Ann Arbor-area, MI
The project will support sampling drinking water in Ann Arbor to better understand if additional PFAS compounds are getting through Ann Arbor's Granular Activated Carbon (GAC) filter. The project leads will use this information to raise awareness about PFAS to the community and when discussing the PFAS issue with the city of Ann Arbor.
Milwaukee River Basin, WI
With the help of community volunteers, Milwaukee Riverkeeper will test surface water for PFAS in West Bend, Grafton and Saukville, WI. The project will help create a better understanding of PFAS levels in the watershed. The results will be shared with community members through educational presentations and will include a call to action.
The Community Action Mini-Grants Program provides impacted communities and directly supporting groups and organizations resources in order to support their on-the-ground education, organizing or PFAS testing efforts.
The Great Lakes PFAS Action Network is a coalition driven by PFAS-impacted communities and supported by environmental organizations. Our coalition aims to be a resource for and connecter between communities that have been impacted by PFAS contamination in their water, soil, air, or wildlife.
Directly resourcing and funding impacted communities is central to our mission and values. We aim to build power within communities directly facing PFAS contamination so they may amplify their needs and collective voices to decision-makers, the media, and other people in power.