What Is GLPAN?
The Great Lakes PFAS Action Network (GLPAN) is a coalition centered and driven by people impacted by toxic PFAS pollution.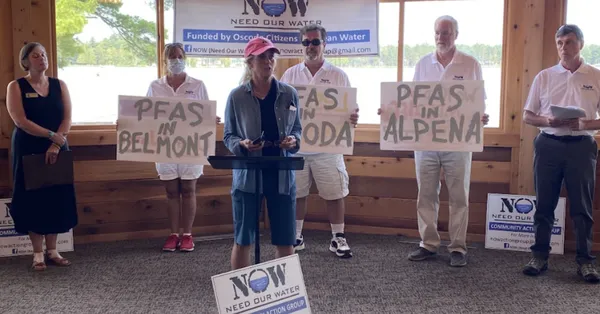 GLPAN harnesses the collective resources, perspectives and expertise in PFAS impacted-communities, and merges it with the resources and expertise of organizations to fix problems locally. Together, we work to educate decision-makers at every level of government, secure funding for large-scale PFAS cleanup, and ensure accountability for quick, complete and fair solutions to PFAS contamination for people across the Great Lakes region.
PFAS contamination has impacted communities across the Great Lakes region. In Michigan alone, nearly 2 million residents, in communities from Traverse City to Rockford, Parchment, Oscoda and Ann Arbor, have PFAS contamination in their drinking water.
GLPAN brings impacted communities together to raise awareness and find solutions for toxic PFAS contamination happening across the region.
We also provide tools and resources for communities grappling with PFAS contamination from top PFAS experts.
Over the past decade, it has become increasingly clear that a dangerous class of chemicals called PFAS — which are used in everything from furniture, clothing and cookware to food packaging, child car seats and fire-fighting foam — is responsible for serious health impacts to people and wildlife.
PFAS have been found at alarming concentrations in drinking water, surface water, biosolids, and people across the Great Lakes region. Michigan has done extensive testing of municipal and well water drinking systems, and has made some progress in cleaning up and addressing PFAS, but there is still a long way to go in fighting these forever chemicals.
Concerns with PFAS have been brought to the forefront of the environmental and conservation movement, thanks in large part to the advocacy of affected residents living in communities highly impacted by these toxic chemicals. Their tenacity, dedication, and unique perspectives have informed the understanding of the PFAS crisis.
GLPAN envisions a future where:
Michigan residents no longer worry that their health may be negatively impacted by PFAS exposure via contaminated sites, on-the-job exposure, and consumer products.
All PFAS contaminated sites in Michigan have been identified and mitigated through clean up or containment, and there are no new contaminated sites affecting aquatic ecosystems, fish and other wildlife.
Federal and state leaders have issued a formal PFAS crisis declaration by banning the production of all PFAS chemicals, except for narrowly confined essential uses.
There is aid and care for health impacted victims of PFAS exposure throughout Michigan and the entire Great Lakes region.
The movement to make these changes are driven by the people and communities most impacted by the PFAS crisis. These communities are partnering with technical experts in public health, science and the law.