Testing for PFAS Contamination
There are several procedures to test for PFAS contamination based on the source being tested. This includes testing wildlife like fish, and water sources like drinking water and well water.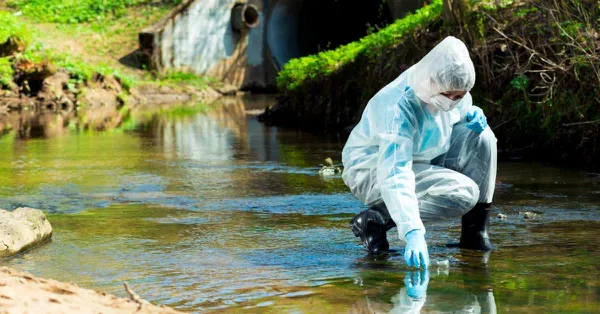 The State of Michigan has been testing fish for the PFAS chemical PFOS, in addition to other PFAS chemicals, as a part of the Eat Safe Fish program. Some areas, like the Huron River, have 'Do Not Eat' fish advisories.
If you are concerned about fish in your area, contact Michigan PFAS Action Response Team (MPART) to see if you qualify to have testing done at no cost to you.
If you see concentrations of bright white foam in the water, do not touch it and contact the Department of Natural Resources (DNR) or Michigan PFAS Action Response Team (MPART) to alert them to the presence of foam. This is highly concentrated PFAS and can be very dangerous.
PFAS foam:
Can be bright white Is usually lightweight
Can be sticky
Tends to pile up like shaving cream
Can look similar to suds from dish soap
Can blow onto the beach
Naturally occurring foam:
Is off-white and/or brown
Often piles up in bays, eddies, or river barriers such as dams
May have an earthy or fishy smell
Drinking Water
Testing If you are not part of an official investigation area and want to sample your own residential well or pay a technician to sample your well, Michigan Department of Environment, Great Lakes & Energy (EGLE) provides information on laboratories located within the state and guidance on how to take a sample of your drinking water. There is no set pricing on testing.
If you are a part of an official investigation area, EGLE works with any identified polluter(s) (such as a business or individual) to ensure that the polluter tests drinking water and takes various land exposure samples.
The plan and testing process can take months for an investigation area and it can take even longer for people to get their results. Once results are shared EGLE and the polluter can make a plan for remediation to ensure everyone has access to safe drinking water.
Well Water
If you get your water from a household well the same standards apply to both municipal drinking and groundwater drinking water sources. The groundwater standards apply to the seven PFAS that Michigan currently regulates.
Michigan has tested private drinking water wells in areas of the state with known PFAS contamination, and many Michiganders with tainted wells have had to switch to municipal water or obtained filters for their home supply.